Physical Therapy Appliance AVERS-Aero
All rights for Phototherapeutic and Physiotheurapeutic products "Doctor Svet", "Avers Shower", "Avers Light", "Avers-SUN", "AVERS-Freshguard", "AVERS-STREAM" are reserved trademarks for "JSC Avers".


The appliance serves for purposes of prevention and treatment of skin diseases, wounds, burns, trophic ulcer, diseases causes by open injury of skin and tissue, as well as pelage.

The appliance is designed as a regular hair drier c/w attachment with built-in violet, blue, green yellow, orange and red light monochromatic oscillators, whereas ultraviolet oscillators are positioned inside the attachment to clean the supply air.

The operating principle is based on the impact of all spectra on human skin, combined with air massage, to enhance therapeutic effect.

Sphere of application:

- domiciliary;
- medical establishments;
- sanatorium-and-spa institutions;
- organized day-care centers;
- nursing homes.
Products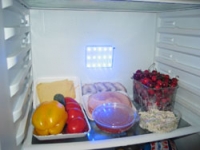 A device to extend shelf time of food products "AVERS–Freshguard".
more...
Latest News
URGENTLY! REMEDY FOR COVID-19 FOUND!
more...
The "AVERS" research and production company has prepared for publication a new Manual for teachers of higher educational institutions and specialists in the field of medicine, biochemistry and biology - "THE EFFECT OF OXYGEN INSUFFICIENCY ON ANIMAL BODY"
more...
During 2020, all efforts of JSC "Avers" will be dedicated primarily towards the testing of the following types of produce: phototherapeutic devices, physiotherapeutic devices, medical, veterinary and home appliance technologies.
more...