Mn (III) Acetylacetonate Production Method
All rights for Phototherapeutic and Physiotheurapeutic products "Doctor Svet", "Avers Shower", "Avers Light", "Avers-SUN", "AVERS-Freshguard", "AVERS-STREAM" are reserved trademarks for "JSC Avers".


The new approach to production of Mn (III) acetylacetonate allowed us to develop a new way of industrial production in water environment with high yield of product, using inexpensive, easily available, domestic raw materials, while increasing safety and environment friendliness of the process. In addition, the process in question runs at room temperature and involves no organic solvents, which means no further disposal of chemicals is required, and the process engineering cost is reduced dramatically.

Fields of application:

1. Polymerization catalyst;
2. Production of incombustible materials for Navy vessels;
3. Afterburning in the upper atmosphere with low oxygen content;
Products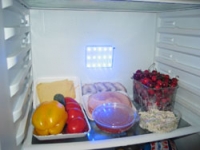 A device to extend shelf time of food products "AVERS–Freshguard".
more...
Latest News
URGENTLY! REMEDY FOR COVID-19 FOUND!
more...
The "AVERS" research and production company has prepared for publication a new Manual for teachers of higher educational institutions and specialists in the field of medicine, biochemistry and biology - "THE EFFECT OF OXYGEN INSUFFICIENCY ON ANIMAL BODY"
more...
During 2020, all efforts of JSC "Avers" will be dedicated primarily towards the testing of the following types of produce: phototherapeutic devices, physiotherapeutic devices, medical, veterinary and home appliance technologies.
more...