Aqua light emitting device for treating joints and ischemic diseases of the upper extremities
All rights for Phototherapeutic and Physiotheurapeutic products "Doctor Svet", "Avers Shower", "Avers Light", "Avers-SUN", "AVERS-Freshguard", "AVERS-STREAM" are reserved trademarks for "JSC Avers".




The device resemble a small hand bath with a warm water supply where the small fountains are the conductors for the light (blue and green), when both palms are situated inside that little bath with the monochromatic emitter of red light. In the device a noninvasive method is used during treatment of joints and ischemic disease of the upper extremities using different specters and wavelengths of sunlight spectrum and therapeutic waves at 50Hz.

The device is easy to use and has great effectiveness. Can be placed in any room with a warm water supply and drain systems. It is powered by an internal supply of 6V.

Vascular irritations, like ones on the fingers of the palm, in a form of angiodystonia and angiopathy syndromes, besides the damage on specific areas peripheral nerves of the upper extremities are the leading roles in the whole picture for the medical world of ischemic diseases of the upper extremities. Vascular irritations, dysfunction of peripheral innervation, including the Vasa Vasorum, lead to trophic changes in distant parts of the upper extremities. With the illness progressing, trophic dysfunctions spread onto the deep tissues of the palm in a shape of damaged bone of the thumb and joints (dystrophic bone syndrome), hyperkeratosis of the palm surface and fingers with numerous cracks in the bone, thickenings, milkyness and deformation of finger nails. The leading role in pathogeneses of trophic irritations, play a main role in disturbing the microcirculation.

Simultaneously using blue, green and red lights with different wavelengths, the stimulates peripheral blood circulation, and at the same time increasing synthesis of cell energy, lowering the surface tension of the blood and activation of erythrocytes without increasing their size. Using the therapeutic resonance of 50Hz stimulates circulatory system and oxygen absorption.

Fields of use:
Holyday sanitarium;
Medical centers;
Reanimation rehabilitation clinic;
Old people's homes;
Cosmetic salons.
Products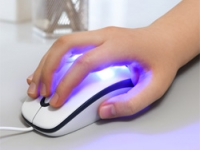 A matrix with monochromic visible-light spectrum emitters for computer mouse "AVERS-Stream", Specification 6342-001-58668926-2011
more...
Latest News
URGENTLY! REMEDY FOR COVID-19 FOUND!
more...
The "AVERS" research and production company has prepared for publication a new Manual for teachers of higher educational institutions and specialists in the field of medicine, biochemistry and biology - "THE EFFECT OF OXYGEN INSUFFICIENCY ON ANIMAL BODY"
more...
During 2020, all efforts of JSC "Avers" will be dedicated primarily towards the testing of the following types of produce: phototherapeutic devices, physiotherapeutic devices, medical, veterinary and home appliance technologies.
more...