A method for extending the shelf life of cooled meat with DFD properties
All rights for Phototherapeutic and Physiotheurapeutic products "Doctor Svet", "Avers Shower", "Avers Light", "Avers-SUN", "AVERS-Freshguard", "AVERS-STREAM" are reserved trademarks for "JSC Avers".


This invention belongs to food products, methods of extending the shelf life of meat without freezing and quality deterioration, up to 15 days. The method allows keeping the properties and quality of fresh meat for 12 to 15 days in a common freezer without freezing. This method may be used to other food products too.

Applications:

- in meat processing industry;
- in trade and catering enterprises;
- in households.
Products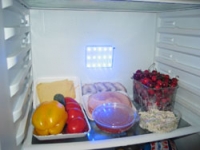 A device to extend shelf time of food products "AVERS–Freshguard".
more...
Latest News
URGENTLY! REMEDY FOR COVID-19 FOUND!
more...
The "AVERS" research and production company has prepared for publication a new Manual for teachers of higher educational institutions and specialists in the field of medicine, biochemistry and biology - "THE EFFECT OF OXYGEN INSUFFICIENCY ON ANIMAL BODY"
more...
During 2020, all efforts of JSC "Avers" will be dedicated primarily towards the testing of the following types of produce: phototherapeutic devices, physiotherapeutic devices, medical, veterinary and home appliance technologies.
more...