AVERS-Vibro – Vibration Phototherapy Belt
All rights for Phototherapeutic and Physiotheurapeutic products "Doctor Svet", "Avers Shower", "Avers Light", "Avers-SUN", "AVERS-Freshguard", "AVERS-STREAM" are reserved trademarks for "JSC Avers".


The device serves for prevention and treatment of diseases caused by metabolic disorder (obesity, diabetes) and gastrointestinal diseases. The devise is represented by a belt of strong woven fabric with built-in monochromatic sunlight oscillators (violet, blue, yellow, orange and red spectra) and a vibrator. Colors, vibration frequency and period of application are set as required by the procedure. The procedure will terminate automatically after the application period has expired.

Vibration massage of back, buttocks and thighs has favorable effect on performance of endocrine glands, distribution of pathological products in healthy tissues and removal thereof from the body. Vibration massage of the stomach is very helpful in prevention of obesity (especially nutritional), and is particularly effective in treatment of stomach, liver and kidney.

Blue and green light are absorbed by numerous endogenous chromophores, thereby triggering regulatory mechanisms of the living cells.

Red and orange colors activate volumetric blood flow and stimulate cortical activity.

Violet color has a tonic effect on the brain and eyes, increasing muscle power, normalizing the function of spleen, parathyroid gland and nervous system.

Yellow color stimulates functions of the G.I. tract, pancreatic gland and liver, and enhances performance capability.

Combined with vibration massage, the light enhances the vibration effect on live tissue, whereas vibration massage facilitates light penetration into human tissues and organs.

Fields of application:

1. in-patient medical units;
2. resort and sanatorium system;
3. physiotherapeutic rooms and beauty shops.
Products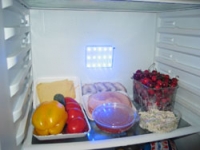 A device to extend shelf time of food products "AVERS–Freshguard".
more...
Latest News
URGENTLY! REMEDY FOR COVID-19 FOUND!
more...
The "AVERS" research and production company has prepared for publication a new Manual for teachers of higher educational institutions and specialists in the field of medicine, biochemistry and biology - "THE EFFECT OF OXYGEN INSUFFICIENCY ON ANIMAL BODY"
more...
During 2020, all efforts of JSC "Avers" will be dedicated primarily towards the testing of the following types of produce: phototherapeutic devices, physiotherapeutic devices, medical, veterinary and home appliance technologies.
more...