AVERS Clinic – Sunlight Spectrum Monochromatic Oscillator and Vibration Device
All rights for Phototherapeutic and Physiotheurapeutic products "Doctor Svet", "Avers Shower", "Avers Light", "Avers-SUN", "AVERS-Freshguard", "AVERS-STREAM" are reserved trademarks for "JSC Avers".


The device serves for prevention and treatment of gynecopathy, urological and proctologic diseases.

Vibration massage has a favorable effect on toning up the muscles, stimulating the metabolism, lymph removal, stretching the unions, nerves, increasing the irritation of vascular and secretory nerves, and stimulating the gland activity.

Combination of red, blue and green colors with a number of wavelengths in each color stimulates the peripheral blood supply system, simultaneously enhancing the cell energy synthesis.

The device has no side effects on human organs. Allergic manifestations are non-existent.

Fields of application:

1. in-patient medical units;
2. resort and sanatorium system;
3. polyclinics and dispensaries;
4. medical service of the Ministry of Defense, Ministry of Internal Affairs, EMERCOM and FSB.
Products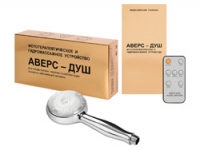 Good for every day use and treatment of cardio-vascular diseases (Ischemic diseases, arterial deficiency of the lower extremity and diseases causing thickening of the blood) also Orthopedic diseases (Osteochondrosis and Arterial Arthritis of joints).
more...
Latest News
URGENTLY! REMEDY FOR COVID-19 FOUND!
more...
The "AVERS" research and production company has prepared for publication a new Manual for teachers of higher educational institutions and specialists in the field of medicine, biochemistry and biology - "THE EFFECT OF OXYGEN INSUFFICIENCY ON ANIMAL BODY"
more...
During 2020, all efforts of JSC "Avers" will be dedicated primarily towards the testing of the following types of produce: phototherapeutic devices, physiotherapeutic devices, medical, veterinary and home appliance technologies.
more...